Featured Vacation Rental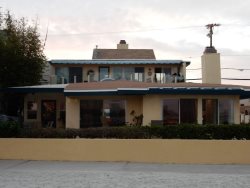 The Baybreeze-Bungalow Combo
Terms and Conditions
RENTAL TERMS – Please ensure that everyone in your party has read and agrees to comply with the following terms. If you or anyone in your party are unable or unwilling to abide by these terms, please do not proceed with booking.

RESPONSIBLE PERSON(S) – Occupants verify that all adult members of their party are at least 28 years of age and that at least one member of their party will be the responsible party per this contract. This excludes children and/or minors traveling with the responsible party(ies). Occupants must present PSG with valid Government issued I.D.'s upon request.

PAYMENT TERMS AND OPTIONS - A $150 holding fee is taken at the time of booking to secure your reservation. A mid-payment of 30% of your total rent, rounded up to the nearest $100, is due 30-60 days after booking. The final balance is due 60 days prior to your stay. For all reservations made on the web within 60 days of stay, the entire amount is due immediately. For all reservations made with PSG personnel within 60 days of stay, a $150 holding is taken at the time of booking and the final balance is due within 7 days, time allowing.

We offer several payment options. Payment is accepted over the phone, via email, through regular mail or directly online by using the payment link below and entering credit/debit card or personal check information.

To pay by phone:
Please call 619-275-2011 and we will run the payment for you.

To pay via email:
Please email card information (including billing address) to [email protected]

To pay via regular mail:
Personal/business/cashiers checks made payable to Pacific Sunset Group
Mail to the following address:
5171 Brownell St
San Diego, Ca, 92110

To pay online:
Click here
A check or credit/debit card (Visa, Master Card, Discover or American Express) can be used for online payments.
Online payments are processed via Rentpayment.com

***All credit/debit card payments are subject to a service charge of up to 2.75% of amount charged.

Occupants acknowledge that if they choose to use a credit /debit card for any of the travel insurance purchases or balances due, up to an additional 2.75% service charge will be added to that charge and paid for via deduction from their security deposit. Occupants paying their balance by check/money order/e-check may opt to purchase a vacation rental damage insurance policy at a cost of $45 in lieu of a security deposit. Security deposits are dependent upon the size of the unit and range from $300 - $600. Occupants paying their balance by credit card must pay the security deposit amount for their selected rental. If occupants paying their balance by credit card do not pay the security deposit, then they will be liable for an additional charge to their card of up to 2.75%.

Occupants paying by credit card agree to pay any rental amounts, taxes, security deposits, extra cleaning, missing property and any damages not covered by the Security Deposit and fines or charges pertaining to any violations of the rental agreement. Occupants understand that all credit card sales are final. In the event that Pacific Sunset Group is unable to recover costs from the credit card on file, Occupants agree to provide an alternative method of payment within 24 hours of notification.

SUPPLIES – The Premises are equipped with linens, towels, dishes, cooking utensils, and all furnishings based upon normal occupancy and use. The Premises are also equipped with a starter supply of toilet paper, paper towels, Kleenex, dish soap, laundry soap, dishwasher detergent, hand soap, and very basic non-perishables. PSG supplies a few assorted beach toys, beach chairs and beach towels. Extras to consider may include additional beach gear, binoculars, reading material, etc. Surfboards, rollerblades & bicycles (including tandems) are available for rent at near-by shops.
Bedding/linens – All bedrooms have a complete set of bedding. All baths are stocked with sets of towels.
?Beach towels – Please DO NOT take bath towels outside. Beach towels are provided or bring your own for beach use. Please launder the beach towels before the end of your stay and place them back in the closet. Make sure beach towels are shook out of all sand before placing them in the washing machine.

ACCESSIBILITY – Access to your unit is either by keyless entry or keys in a lockbox on the Premises. The keyless entry code or lock box code and directions for use will be provided in your welcome package two weeks prior to your check-in date, as long as final payment has been received. All keys and remotes (if applicable) are to be left in the unit and one set returned to the lock box at the end of your visit. A $150 fee will be deducted from the security deposit for each key ore remote not left in unit and/or lockbox.

UTILITIES/HOUSEHOLD ITEMS - Gas, water, electricity, and wireless high-speed internet access are included in your rental fee. There may be local phone service offered depending upon your unit. If local phone service is provided, the phone number will be included in your welcome package.

Wi-Fi - All units are equipped with Wi-Fi. Access codes will be provided in your welcome package.

CONDITION OF PROPERTY – Premises will be delivered to Occupants in a professionally cleaned condition. Upon termination of tenancy, Occupants will deliver the Premises in the same condition less ordinary wear and tear. If Occupants do not return the Premises in the same condition, a(n) (additional) charge will be deducted from the Security Deposit.Maintenance - Occupants shall, upon arrival, examine the Premises, all furniture, furnishing, appliances, fixtures, and landscaping (if any) and shall immediately report if any are not in operation condition or are in disrepair. Reporting repairs does not give Occupants the right to cancel this Agreement or receive a refund of any payments made. Failure to report repairs may result in Occupants being charged for such upon departure. Occupants agree to keep the Premises, all furniture, furnishing, appliances, fixtures, and landscaping (if any) clean and in good working order. Occupants agree to rearrange any moved furnishings back to their original position.
Safety - Occupants shall properly use, operate and safeguard the Premises, including, if applicable, any landscaping, furniture, furnishings, appliances and all mechanical, electrical, gas, and plumbing fixtures, and keep them clean and sanitary. Occupants shall immediately notify PSG of any problem, malfunction or damage. Occupants shall pay for all repairs or replacements caused by Occupants, guests and licensees of Occupants, excluding normal wear and tear. Occupants shall pay for all damage to the Premises as a result of failure to report a problem, malfunction or damage in a timely manner. Occupants shall pay for repair of drain blockages or stoppages unless caused by defective plumbing parts or tree roots invading the sewer lines.
Security Deposit – The security deposit will be held in Pacific Sunset Group's Trust Account. All or any portion of the security deposit, upon termination of occupancy, may be used as reasonably necessary to: i) cure Occupants' defaults in payment of rent, non-sufficient funds ("NSF") fees or other sums due; (ii) repair damage, excluding ordinary wear and tear, caused by Occupants or Occupant's guests or licensees; (iii) clean the Premises; and (iv) replace or return personal property or appurtenances. Within three weeks after Occupants vacate the Premises, PSG shall (i) furnish Occupants an itemized statement indicating the amount of any security deposit (i) received, (ii) withheld and the basis for its disposition, and (iii) return any remaining portion of the security deposit to Occupants.
?Vacation Rental Damage Protection - As a part of your stay, you may purchase a Vacation Rental Damage Protection plan designed to cover unintentional damages to the rental unit interior that occur during your stay provided they are disclosed to management prior to check-out. If purchased, the policy will pay a maximum benefit of $3,000. Any damages that exceed $3,000 or are not covered under the plan will be charged to the credit card on file. If, during your stay at one of our rental properties, an insured person causes any damage to real or personal property of the unit as a result of inadvertent acts or omissions, the Insurer will reimburse the Insured for the cost of repair or replacement of such property up to a maximum benefit of $3,000. Certain terms and conditions apply. Full details of the Vacation Rental Damage coverage are contained in the Description of Coverage or Insurance Policy www.vacationrentalinsurance.com/g20vrd . The Vacation Rental Damage plan can be purchased up to, and including at, check-in. By submitting payment for this plan, you authorize and request CSA Travel Protection and Insurance Services to pay directly Pacific Sunset Group any amount payable under the terms and conditions of the Vacation Rental Damage. Please contact Pacific Sunset Group directly if you do not wish to participate in this assignment. If you do not wish to purchase the Vacation Rental Damage Protection, a security deposit of varying amounts will be required prior to check in.
Repairs – PSG and its' agents have the right to enter the Premises, at any time, (i) for the purpose of making necessary or agreed repairs, decorations, alterations, improvements, for maintenance or to supply necessary or agreed services; (ii) to verify that Occupants have complied with the terms of this Agreement; or (iii) in case of emergency.
No smoking – No smoking is allowed inside the Premises. If smoking does occur inside the Premises, (i) Occupants are responsible for all damage caused by the smoking including, but not limited to, stains, burns, odors, and removal of debris; (ii) Occupants, Authorized Guests, and all others may be required to immediately leave the Premises, or be removed from the Premises, (iii) Occupants are in breach of this Agreement; and (iv) Occupants forfeit the right to return of any Security Deposit. Smoking is to be limited to outside areas only. Cigarette/cigar/etc butts are to be discarded in proper, removable vessels and are to be removed from the premises in a safe and completely extinguished manner. Proper vessels for discarding and extinguishing will not be provided. Cigarette/cigar/etc butts are not to be discarded on the floors, sidewalks, garden areas, roof tops, or any area not determined to be a proper and removable vessel for extinguishing and disposing of smoke collateral. Violators will be charged a $150 penalty plus any additional cleaning necessary including for interior aeration, patio & yard, or furniture. Violations will be identified by actual evidence as well as neighbor complaints. See http://www.sandiego.gov/lifeguards/safety/bchreg.shtml for more details on the City of San Diego's Beach Regulations.
No pets – Pets are not allowed. If an unauthorized pet is on the Premises, (i) Occupants are responsible for all damage caused by pet, (ii) Occupants, Authorized Guests, pet(s) and all others may be required to immediately leave the Premises, or be removed from it, (iii) Occupants are in breach of this Agreement, and (iv) Occupants forfeit the right to return of any security deposit.
No Blades / Boards - No skates, roller blades, surfboards, boogie boards, skateboards, or beach toys are allowed inside the unit. Please leave these items in the garage.

???????NO ASSIGNMENT OR SUBLET – Occupants shall not assign any interest in this Agreement or sublet any part of the Premises. If this Agreement is assigned or the Premises or any part thereof is sublet, (i) Occupants, Authorized Guests, assignee(s), sublessee(s) and all others may be required to immediately leave the Premises, or be removed from it; (ii) Occupants are in breach of this Agreement; and (iii) Occupants forfeit the right to return of any security deposit.

UNAVAILABILITY – If for any reason beyond the control of PSG, the Premises are unavailable, PSG may substitute a comparable unit or cancel this Agreement and refund in full to Occupants all payments made.

ABANDONMENT – If Occupants abandon the property or vacate before the termination time, management may at their option, re-enter the premises and take possession of and remove all property.

PERSONAL PROPERTY – Occupants' personal property is not insured. Neither owners, managers, nor managers' agents are responsible for articles left behind, lost or stolen.

DISTURBANCES – Occupants will not disturb, annoy, endanger or interfere with other occupants of the building or neighbors, nor use the premises for any unlawful purposes, nor violate any law or ordinance, nor commit waste or nuisance upon the premises. It is further agreed and understood between Occupants, PSG and owner that any disturbances resulting in neighborhood complaints or police action will cause tenancy to be subject to termination forthwith and all monies to be forfeited to management.

CONDUCT UNBECOMING – It is further agreed that in the event of party activity in the unit resulting in neighbor complaints and/or police visit/investigation, Occupants will pay a fine of $100 per occurrence. This fine is in addition to any other remedy available to owner/management and will be deducted from the security deposit. Occupants also understand that the Pacific Sunset Group has a zero tolerance policy on any illegal substances, drugs, and/or paraphernalia on or around the above referenced property.

CANCELLATION; REFUND – In the event of cancellation, any monies paid shall be forfeited and may be refunded when and if the property is re-rented for the complete term of the agreement or portions thereof. Pacific Sunset Group will make every effort to re-rent the property and to return those monies recuperated through re-rental providing the property owner has not lost revenue. Security deposits, TOT, and cleaning fees are always returned. PSG recommends Occupants purchase Travel Insurance.CSA Travel Insurance - CSA Vacation Rental Insurance has been made available with your reservation. Vacation Rental Insurance reimburses for pre-paid, non-refundable expenses due to certain unforeseeable circumstances that may jeopardize your vacation investment and force you to incur unplanned expenses. We strongly recommend you purchase this valuable protection. If you do not elect coverage, you acknowledge you have read and understand our cancelation policy and choose not to purchase Vacation Rental Insurance on behalf of all occupants. Insurance cannot be added after a potential loss or after final payment. Separate CSA terms and conditions apply, please read your policy and contact CSA with questions.

HOLDING OVER – Occupants agree there shall be no holding over or late departure without prior approval. Any unauthorized holding over by Occupants shall be subject to a charge of 1 and ½ times the daily prorated rent, plus any additional damages incurred including, but not limited to, the cost of alternative housing for guests displaced by Occupants' holding over. Late check-outs will be charged 50% of the hold over rate.

OCCUPANTS' OBLIGATIONS UPON TERMINATION OF OCCUPANCY – Upon termination of occupancy, Occupants shall: (i) give PSG all copies of all keys or opening devices to the Premises, including any common areas; (ii) vacate the Premises and surrender it to PSG empty of all persons; (iii) vacate any/all parking and/or storage space; and (iv) deliver the Premises to Management in the same condition less ordinary wear and tear as received upon arrival; (v) place soiled dishes in dishwasher and run clean cycle; (vi) place all used linens in bathtub(s); (vii) ensure all windows and doors are closed and locked and all lights and appliances are off; (viii) remove trash from Premises and place in proper receptacle.

PERSONAL PROPERTY AND INJURY –Owner Insurance – Occupants' or guests' personal property, including vehicles, are not insured by Owner, PSG or, if applicable, HOA, against loss or damage due to fire, theft, vandalism , rain, water, criminal or negligent acts of others, or any other cause. Owner / PSG does not insure against personal injury to Occupants, guests or licensees due to any reason other than the condition of the Premises.
Occupant Insurance – PSG recommends that Occupants carry or obtain insurance to protect Occupants, guests and licensees and their personal property from any loss or damage.
Indemnity and Hold Harmless – Occupants agree to indemnify, defend and hold harmless Owner and PSG from all claims, disputes, litigation, judgments, costs and attorney fees resulting from loss, damage or injury to Occupants, Occupants' guests or licensees or their personal property.

MEDIATION – Occupants agree to mediate any dispute or claim arising out of this Agreement, or any resulting transaction, before resorting to arbitration or court action. Mediation fees, if any, shall be divided equally among the parties involved.

MEGAN'S LAW DATABASE DISCLOSURE – Notice: Pursuant to Section 290.46 of the Penal Code, information about specified registered sex offenders is made available to the public via an Internet Web site maintained by the Department of Justice at www.meganslaw.ca.gov. Depending on an offender's criminal history, this information will include, either the address at which the offender resides or the community of residence and Zip code in which he or she resides. Neither PSG nor Owners are required to check this website. If Occupants want further information, Occupants should obtain information directly from this website.

JOINT AND INDIVIDUAL OBLIGATIONS – If there is more than one Occupant, each one shall be individually and completely responsible for the performance of all obligations under this Agreement, jointly and individually with every other Occupant.

TRANSIENT OCCUPANCY – Occupants are renting the Premises as transient lodgers for the number of days specified in the contract from the Owner who retains full legal, possessory and access rights.

ENTIRE CONTRACT – Time is of the essence. All prior agreements between PSG and Occupants are incorporated in this Agreement, which constitutes the entire contract. It is intended as a final expression of the parties' agreement, and may not be contradicted by evidence of any prior agreement or contemporaneous oral agreement. The parties further intend that this Agreement constitutes the complete and exclusive statement of its terms, and that no extrinsic evidence whatsoever may be introduced in any judicial or other proceeding, if any, involving this Agreement. Any provision of this Agreement that is held to be invalid shall not affect the validity or enforceability of any other provision in this Agreement. The waiver of any breach shall not be construed as a continuing waiver of the same or any subsequent breach. This Agreement shall be governed and construed in accordance with the laws of the State of California. California shall have the personal jurisdiction over the parties, and the county in which the Premises is located shall be the forum for any legal action brought in relations to this Agreement.